Puff Pastry Egg Tarts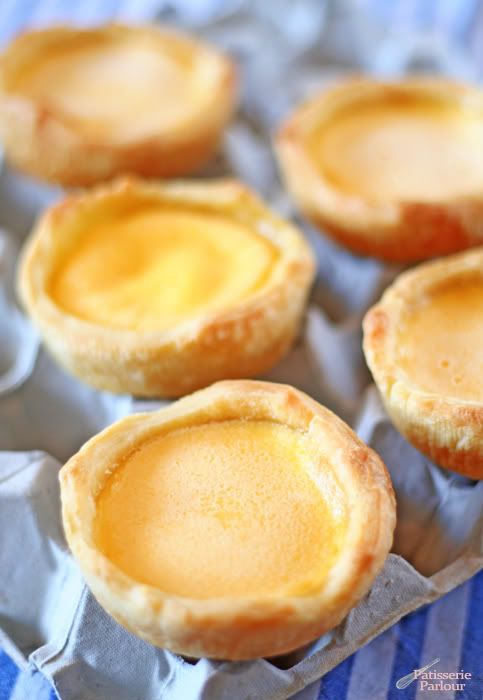 My friend had kindly given me part of the puff pastry dough which she made few days back and I put it to good use today. Well, almost a good use.
The thought of  incorporating butter to dough, rolling, folding and resting the dough sends shivers down my spine if I were to make a puff pastry dough from scratch. Thus, when she told me that she was going to make the dough and gave part of it to me, I was overjoyed and grateful. And the first thing I wanted to do with the dough was to bake egg tarts.
I made a mistake whereby I did not completely remove the froth from the egg mixture even after straining it and that showed on the top of the egg custard. So please remember to remove all the froth and residues before pouring the mixture into the pastry dough. Nonetheless, they still tasted good and strangely enough, the white foam disappeared after a few hours. Here is the recipe for these puff pastry egg tarts.
Puff Pastry Egg Tarts
Ingredients (yields 12 tarts):
Puff pastry dough or you can purchase the frozen puff pastry dough from supermarket
4 egg yolks
80g caster sugar (slightly reduce the amount if you do not want them too sweet)
100ml heavy whipping cream
100ml milk
3 drops of vanilla extract
Prepare puff pastry dough as instructed on the package.
On a floured surface, roll the dough and cut it into 12 circles. Set aside.
Using an electric beater, blend all ingredients except for pastry dough. Beat for about 3 minutes and strain the filling through a strainer. Set aside.
Preheat oven to 200C and butter the muffin pan.
Mould the 12 pastry circles well into the muffin pan by pressing firmly on the bottom and side.
Fill the pastry dough with the egg mixture, about 80% full.
Bake the tarts for about 30-35 minutes or until the filling turns brown on the top.
Note: The baking time may vary due to different types and temperatures of ovens thus, always make sure that you check your products by the way they should turn out instead of following blindly with the time called for in the recipe.